Four families, four journeys
My name is Stephanie Kawamoto. I am a yonsei and a descendant of the Kawamoto, Koyanagi, Hyodo, and Kagetsu families. I grew up hearing about my mom's side of the family, especially Hide Hyodo Shimizu and Eikichi Kagetsu, but not much about my dad's side of the family. Through Landscapes of Injustice, I have been fortunate to learn about all four of my grandparents' families and their experiences during World War Two. Although they all experienced dispossession and forced relocation, each family's experience was different.
Kawamoto
My paternal grandfather, Yoshimasa (Tom) Kawamoto, grew up in Vancouver. He was in high school during World War Two, and his parents, Koichi and Masuyo, had a confectionery on Powell Street. Koichi and Masuyo attempted to send their belongings to their former address before being sent to Greenwood internment camp, but they were caught by the British Columbia Security Commission and their belongings were taken.  Maybe because of this, or perhaps for some other reason, my great-grandfather was sent to the P.O.W. camp in Angler, Ontario, and he was not released until March of 1946. The rest of the family (Masuyo and seven children) were interned at Greenwood for the remainder of the war. The family reunited and settled in Hamilton, Ontario after the war.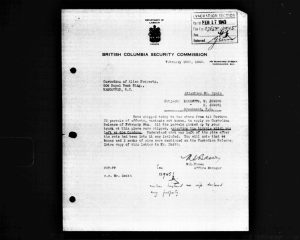 Photo: lac_rg_117_c3_1191x1kawamoto-koichi
Koyanagi
My paternal grandmother, Chieko (Connie) Koyanagi, was from the Eburne area on Sea Island. Her father, Matashiro, worked at Acme Cannery, and the family lived in cannery-owned housing.  Matashiro had a fishing boat, which the RCMP sold to a fisheries company for 25% less than its value in 1942.
The Koyanagi family (Matashiro, wife Kisa and seven children) relocated to Chin, Alberta and then to Taber, Alberta, where they worked on a farm until the end of the war. After the war, they moved to Hamilton, Ontario.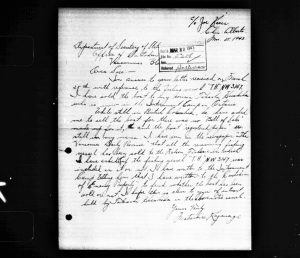 Photo: lac_rg_117_c3_05308_koyanagi_matashiro
Hyodo
My maternal grandfather, Masao (Mas) Hyodo, was from Vancouver. His father, Hideichi, was an unemployed janitor, and his mother, Toshi, owned rental properties. At the time that the Japanese Canadians had to register with the RCMP, two siblings had already moved to Ontario for work, and shortly after, two siblings moved to Montreal. Grandpa was permitted to finish his high school exams before moving to Hamilton to work as a house boy. His parents and youngest brother Toshio were sent to Kaslo before relocating to Montreal. His eldest sister, Hideko (Hide) stayed in British Columbia, first to teach at Hastings Park and then to run the education system in the internment camps. Grandpa and his brother Yoshio eventually joined the S-20 unit of the army, but since they didn't speak Japanese they spent most of the time in language training and didn't go overseas. After the war, Toshi and Hideichi reunited with three of their children in Hamilton, but the family never all lived in the same place after they left BC.
Throughout the war, Hide (on her mother's behalf) wrote to the Office of the Custodian to demand that their belongings be sent to them and to question the government's treatment of their property. These efforts paid off, as some of the things they left with friends and relatives outside of the protected area did make their way back to the family rather than being sold.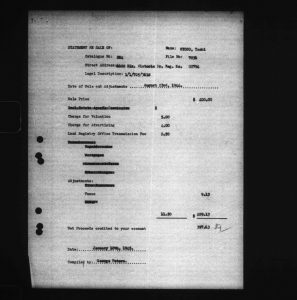 Photo: lac_rg_117_c3_07036_hyodo-toshi_1
Kagetsu
My maternal grandmother, Sachiko (Sachi) Kagetsu, was from Vancouver. Her father, Eikichi, was an entrepreneur who owned fishing boats, a train and train track, a logging company, and several other properties. Her mother, Toyo, worked as a housekeeper for Eikichi's businesses. As they were a wealthy family, they were able to go to a self-supporting site when they were forced to leave the coast and they went to Minto City, with the exception of two of the eldest children who were in Japan. Most of the family eventually moved to Toronto.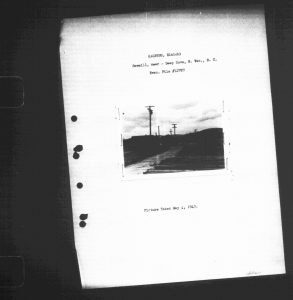 Photo: lac_rg_117_c3_12787_kagetsu_eikichi
Growing up, we had always thought that Grandma's piano had been left with a trusted neighbour when the family was interned and then sent to them in Ontario later on. We didn't find out about self-supporting sites, or that the family had been in one, until my Aunt Margaret and I went on the Internment Bus Tour in 2019. Now we know that the piano that we learned to play on actually went with the family to Minto City.
As a yonsei who teaches grade six students about the Japanese Canadians during World War Two, my family history helps to bring another level of authenticity to my teaching. I get to use documents from my family files to talk about belongings, loss, and injustice, and the students get to interact with real history — Japanese Canadian history in general, but also my own family history. They are always shocked to learn how little money families received for their belongings after auction, and to see the various fees the government used to ensure they received even less. For example, my great-grandmother arranged for the sale of her property on her own, but she was still charged for valuation and advertising.  During the unit, we also read from my great uncle's journal, we look at maps and photographs, and the students ask me questions about my family.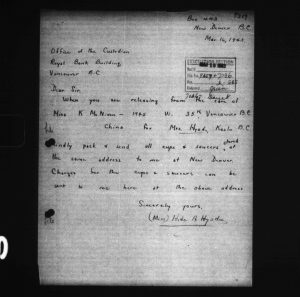 Photo: lac_rg_117_c3_07036_hyodo-toshi_2
When we do the Powell Street Simulation activity, my grandparents' store is one of the properties so one student or group gets to create it and then experience many aspects of the internment era as my "family". The simulation is always emotional for me, especially when my great-grandparents' business is part of it, and it's deeply meaningful for the students.

This year's group did a virtual Powell Street Simulation due to COVID protocols.
Photo courtesy of Stephanie Kawamoto
Another way that I bring my families' lived experiences into my teaching is through a choose-your-own-adventure activity that I made, inspired by the stories of my ancestors and other Japanese Canadians during the war. This activity wraps up their learning by having them choose a character and then make the decisions that the character would have had to make to survive.  You can try it out at https://bit.ly/jcwwii.