Bridging Communities in the Prairies
Learning from the Snow Country Prison Healing of Former Interned Japanese and Teaching Lived Experiences
Amber Ali
At the end of August, and right before the start of my third year of classes at the University of Winnipeg, I had the opportunity to investigate several sites of interest to the Landscapes of Injustice project. Armed with my copy of The History of Japanese Canadians in Manitoba by the former Manitoba Japanese Canadian Citizens' Association, I had begun to map out various places of interest that may hold project significance. With much of the stories from the book told from the perspectives of those who lived during the time of relocation, it is important that we as researchers build a backdrop to these stories through concise historical experiences. That means that we are responsible as historians and social scientists for creating context and connecting the senses in order to deliver the full historical experience to those learning from us.
With this in mind, I set out to contact potential leads generated from my reading of the book and found that even beyond our immediate locality, there were similar stories waiting to be experienced. My initiative to reconcile the various locations into a concise resource meant coming in contact with people across the province and even in North Dakota, where my research found that the United Tribes Technical College, a historical site converted into a college for the 5 circling reserves nearby, was a former location for the "alien internment" in America. Specifically, in April of 1941, Fort Lincoln became designated, as with various other inactive military posts, to house foreign seamen being detained.[1]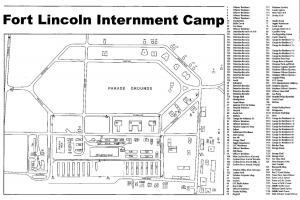 Credit: The Freedom of Information Times[2]
What I would come to learn from my visit to the UTTC, was just how embedded in the present the historical framework is. For its current residents, the implications of racial nuances survive and even strengthen the bridges between Japanese, German, and Indigenous communities. In 2003, former internees returned to the site of their former internment where they relived the past and expressed their grief.[3] Loss of ways of life and even lives themselves happened as a result of the internment and as many would recall, the ultimatums they were given were no better than the internment themselves. Speaking in 2003 as a living witness, Tad Yamakido recalled his family choosing to be repatriated back to Japan, where he would watch his brother contract TB and several friends die as a result of culture and health shocks.[4]
| | |
| --- | --- |
| One of the former lodging buildings where internees were housed together | On the opposite side of the parade grounds, former guard and officer homes overlook the internee housing |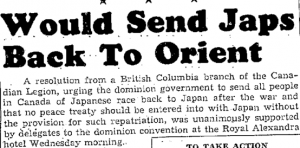 Canada also attempted to repatriate its Japanese citizens. – Winnipeg Free Press, May 27, 1942
Following the 2003 visit to the UTTC by former internees, the College again hosted a gathering in 2010 of former internees and their family members to plan a memorial site dedicated to the internment period.[5] Additionally, a special ceremony hosted by the 5 tribes was conducted to promote healing and bridge the communities further. The most striking inference made by both visits is the success of bridging these two communities together. Former internees, both German and Japanese have been welcomed and empowered by the indigenous cultures that have faced the continuity of time's racial wrath. This is more than simply a footnote; it is a lesson for us, the northern neighbor to consider carefully.
In Canada, families of Japanese-Canadians during World War II were given the option to be relocated to the frigid prairies, most notably to Alberta and Manitoba. Dispossessed and stripped of their rights, these Japanese-Canadian citizens faced uncertainty in effort to keep their families together, safe, and provided for. According to the oral histories provided by relocated citizens, conditions on the beet farms that they were assigned to varied from being welcomed into an extended family collective to rotted shacks in the icy winters.[6] In some rural communities, such as Lockport, MB, townspeople ridiculed and taunted the families until they were driven out over concerns of safety and dignity. Beyond losing the bulk of their worldly possessions and livelihoods, the Japanese-Canadians who arrived in their respected relocations were again dispossessed of their ability to collect livable and equivalent wages to those they had before being relocated. Labour was difficult, taxing, and unfair. Beyond labour, the City of Winnipeg attempted to set their on exclusion by-laws outlining restrictions on employing the Japanese-Canadians outside of their assigned farm labour.[7]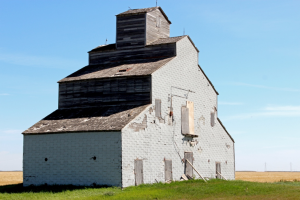 While weathered on the outside, the former grain elevator is gutted but sturdy and has been well looked after over the years since it was built in the 1940's.
Projects, like the Hoffman Grain Elevator just outside of Brunkild, MB, were conducted by Japanese labourers and presented to owners with pride and dignity. Landowner Ernest Hoffman was given a plaque with his initials and "prosperity" in Japanese characters, denoting the integrity of the labourers.[8] Upon investigation, it was clear that the grain elevator was constructed with great care and craftsmanship, as it stands today still sturdy some 60 years later. While this gesture of goodwill was made under the pretense of productive labour during a war time necessity, it cannot be forgotten that these monuments exist out of the invention of paranoia and propaganda against citizens of Canada. At the same time, what is most monumental in the act of giving the plaque to Ernest Hoffman is the persistence of attempting to bridge two communities together. Investigating the extent of this bridging between the local community and the Japanese-Canadians is the next pursuit of my investigation into the Hoffman Grain Elevator. It is my hope to track down the plaque that once resided on the elevator's walls and document it for historical narrative as well as use the site for educational visits in the future.
Yet what does a grain elevator and Japanese-Canadian relocation to the prairies have to do with learning from the United Tribes Technical College which was once the Fort Lincoln Alien Internment Camp? The answer is more than simple. In 2003, when the former internees returned to their former wartime home, the North Dakota Museum of Art was in the process of documenting and creating a travelling exhibit which was presented during the visit. As part of the exhibit, John Cristgau wrote an accompanying book, Enemies: World War II Alien Internment, which explored the continuity racism through the narratives of six former internees.
As a result of the exhibit and visit, the implications of racism binding one community to the next is something that has not left the minds and practices of the United Tribes Technical College. Rather than compartmentalize and separate the events and treatments of both communities, a bridge has been built between them to continue to heal and create alliances. Individually, both communities have experienced injustice and racism differently, but those experiences are simply the brainchild of racism itself. Together, they are stronger.
https://www.youtube.com/watch?v=DDkCxn3P_A8&t=880s
(Video of the 2003 visit to the UTTC by former internees)
In Manitoba, when the war was over, the Japanese-Canadians relocated to sugar beet farms were allowed to go on with their lives the best they knew how. While one community of people moved out of their laborious placements, a void was left in the now cheap labour dependent farming community. To fill this void, Indigenous labourers were recruited, sometimes forced, into taking over where the Japanese-Canadians had left off.[9] Similarly in Alberta and Saskatchewan, "governments supported the sugar beet industry's labour recruitment efforts by, among other things, pushing northern Indigenous people into waged labour in the sugar beet fields in southern Alberta by deliberately cutting off their social assistance payments."[10]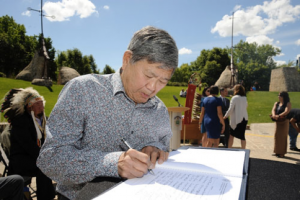 Art Miki signing the Indigenous Accord on June 20, 2017 (Photo Credit: National Association of Japanese Canadians)[11]
In effort to express the importance of bridging communities, there is a necessity to build on the initiatives of the Indigenous communities of Canada that seek to enter standard curriculums. Already, the Manitoba school boards have begun to integrate Indigenous issues into their classrooms. In addition to this, the University of Winnipeg has adopted an Indigenous course requirement into all their programs. Between the Japanese and Indigenous communities, a bridge is already being build. In June of this year (2017), Art Miki signed on behalf of the National Association of Japanese Canadians the Indigenous Accord.[12] The NAJC was the only culturally based group to do so.
In pursuit of building upon this narrative that addresses more complex and connected issues between Manitoban cultures, a picture of how communities are linked and coexist in the provincial ecosystem will be built through teachable components based off our research. Our goal is to create teachable packages that can be easily delivered to classrooms that address the use of various historical methods, sensitive racial topics, and interactive approaches that can be developed further by students and teachers. By having connections with the historical communities that surround us, we can bring history to life through field trips, immersion, and exposure of our thriving cultures. If successful in our endeavors, we will create a lasting relationship between our schools, Indigenous, and Japanese communities by bridging them together.
Further, our goals include introducing oral histories to students of all ages and create a living experience. Through this, we have been working with the JCAM and rural municipalities in an attempt to create field trip spaces for students to visit and experience in their journey through the history of Japanese Canadians in Manitoba. It is our hope that historical locations are preserved and experienced by those who seek to learn from them and that the entire historical experience is delivered to students so as to compound the importance of bridging our communities and addressing our past to learn for the future.
[1] Frankk E. Vyzralek. "The Alien Internment Camp at Fort Lincoln, North Dakota, during World War II: An Historical Sketch." 2003. Manuscript on File at ND State Historical Society, Bismarck. 2.
[2] The Freedom of Information Times Accessed at http://www.foitimes.com/internment/camps.htm
[3] United Tribes Technical College. "History of United Tribes And Fort Lincoln: Common Ground." Accessed on September 25th, 2017. http://test.uttc.edu/about/history/common.asp
[4] North Dakota Museum of Art. "Snow Country Prison." Accessed at https://www.youtube.com/watch?v=DDkCxn3P_A8&t=880s
[5] United Tribes Technical College. "Common Ground." Accessed at http://test.uttc.edu/about/history/common.asp
[6] Manitoba Japanese Canadian Citizens' Association. The History of Japanese Canadians in Manitoba. 1996. Pp. 16.
[7] Louis Dion. "The Resettlement of Japanese Canadians in Manitoba, 1942-1948." A Thesis presented to the University of Manitoba in fulfillment of the thesis requirement for the degree of Masters of Arts. 1991. Pp. 181.
[8] Gordon Goldsborough and Jean McManus. "Historic Sites of Manitoba: Hoffman Grain Elevator (RM of Macdonald)." Manitoba Historical Society. Accessed September 16, 2017. http://www.mhs.mb.ca/docs/sites/hoffmanelevator.shtml
[9] Donna Carreiro. "'You had no choice': Indigenous Manitobans shed light on exploitative farm labour program that ran for decades." CBC News. June 18, 2017. Accessed on September 16, 2017. http://www.cbc.ca/news/canada/manitoba/indigenous-forced-labour-sugar-beet-farms-1.4165272
[10] Lynne Fernandez and Jim Silver. "Indigenous People, Wage Labour and Trade Unions: The Historical Experience in Manitoba." Canadian Centre for Policy Alternatives – Manitoba Office. March 2017. Pp. 6. Accessed on September 21, 2017. https://www.policyalternatives.ca/sites/default/files/uploads/publications/2017/04/Indigenous_People_Wage_Labour_and_Trade_Unions.pdf
[11] "JCAM Signs the Indigenous Accord." National Association of Japanese Cana
[12] National Association of Japanese Canadians. "JCAM Signs the Indigenous Accord." Accessed at https://najc.ca/jcam-signs-the-indigenous-accord/