To read the entire newsletter, click this link Landscapes of Injustice Summer 2019 Newsletter
Message from the Project Director, Dr. Jordan Stanger-Ross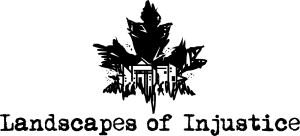 Look up! Landscapes of Injustice has a new logo.
We decided to refresh our look this summer, just in time for our signature public outputs: the Landscapes of Injustice teacher resources, digital materials, and museum exhibit. After an international design competition, with over 100 submissions, we settled on a distressed maple leaf. Some of our key themes, displacement and the loss of home, are subtly sketched within. For many of us, this design evoked classic Canadian iconography, but with something awry. Something is wrong. This Canada is recognizable to us, but it's not the place of our ideals.
In July we launched Canada's Internment Era: A Field School at the University of Victoria. It was a highly unusual class. Half of our twenty students were regular UVic students, many among them also research assistants on our project. They're a passionate group. Rounding out the class were 10 teachers who work in classrooms across Canada. They were a diverse lot, joining us from elementary and secondary schools in Quebec, Ontario, Manitoba, Alberta and British Columbia. Together, we travelled for a week in the interior of British Columbia as part of the Nikkei National Museum bus tour. Alongside other tour participants, many of whom had family connections to the internment and even a few who had lived in internment themselves, we learned the history of internment in the places where it happened. Then we spent a week in Victoria, reading, discussing, and completing group projects.
It was a dream of this course to give teachers the knowledge and resources to teach the story of the dispossession to students across Canada. With the support of partners—the Frank H. Hori Foundation and the National Association of Japanese Canadians—we were able to provide fellowships to all participating teachers, covering almost all of their costs. Roxanne, who joined our course from rural Quebec, worked with a small group to translate teaching resource materials into French. She had never before heard of the internment. Roxanne returned home inspired to teach this history and to convey our project's resources to her colleagues. Other course participants collaborated to create an interactive digital story; classrooms across Canada will soon be able to experience some of the difficult choices that faced Japanese Canadians during their internment and dispossession. What to pack? Where to go? Who to trust? Informed by research, this interactive tool will soon be available alongside our other teaching materials.
Are you a teacher who might be interested in participating in July 2020? Contact me at jstross@uvic.ca and I'll make sure you get the application materials.