By Kate Jaimet
What is value? What is loss? Those are the questions that Greg Miyanaga wants students to ponder in his Landscapes of Injustice project, which addresses the dispossession of Japanese Canadians during the Second World War.
Miyanaga — who won the 2006 Governor General's History Award for Excellence in Teaching for his previous work on Japanese-Canadian internment — is part of a team of researchers collectively called "Landscapes of Injustice" which is supported by the Social Sciences and Humanities Research Council of Canada. Their seven-year project seeks to discover, document, and communicate the stories of more than 21,000 people of Japanese ancestry who had their homes and possessions taken away when they were forced into internment camps.
Miyanaga is developing a role-playing game that allows Grade Five students to experience the feeling of losing their homes, as they learn about the wartime events.
"Because we're talking about ten-year-olds, I'm just trying to give them a broad idea of the issue," he said. "The big question is: What is value? What do you value? And what is loss? How do you deal with that, when you lose what you value?"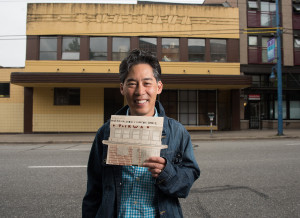 The "gameboard" in Miyanaga's project is a bulletin-board map of Powell Street in Vancouver, where many Japanese Canadians lived and owned businesses. Each child will receive a property card with an address, a picture, and a description of a business. Students will recreate the businesses and residences on the map/gameboard, and pin the cutouts of family members and possessions they accumulate into these scenes.
"The students are going to use their own families as a model; so they'll live upstairs with their family and they'll have a business downstairs," Miyanaga explained.  "Each lesson will start with headlines from 1941, like "Yankees Win World Series," to give them an idea of what's going on at the time. Then one day, we'll let the kids know that the Japanese have bombed Pearl Harbour. The next time they come in, their businesses and possessions will still be there, but the 'people' will be on a different bulletin board — in tents, in the mountains. As the war goes on, their possessions will disappear."
Miyanaga's project is still at the conceptual stage, but when it's completed, the intention is to make the game — and other learning resources developed through Landscapes of Injustice — available to educators across Canada.
Note: This article was first published by The Canadian History Society. The photos from Powell street are from Rebecca Blissett and the photos of the student's work, from the class of Lindsay Hill, are by Greg Miyanaga.