Landscapes of Injustice is pleased to announce the launch of the Digital Archives database this March.
Join us for one or both of the launch events each as we explore the materials contained within, demonstrate how to retrieve them and chat with members of the Japanese Canadian community about the files related to their family history and heritage.
We will introduce different storytellers at each event.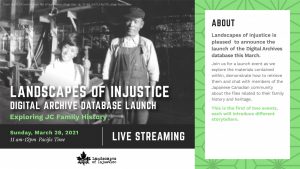 First Stream: Sunday, March 28, 2021
                        11 am- 12 pm Pacific Daylight time

THIS IS THE LINK TO THE RECORDING OF THE FIRST SESSION https://youtu.be/wZhamaJEH7o

THIS IS THE LINK TO THE DIGITAL ARCHIVES DATABASE  https://loi.uvic.ca/archive/
Moderator: Lisa Uyeda
Welcome: Jordan Stanger-Ross
Digital Archive Database demo: Joey Takeda
Sunday, March 28, 2021
Guest Story tellers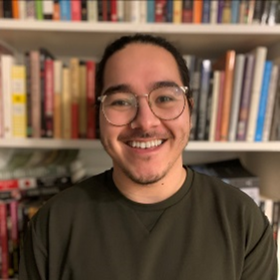 Joey Takeda is a fourth-generation (yonsei) Japanese Canadian who has worked with the digital archives cluster since 2018 to create the infrastructure and processing for the archival website. He received his BA (Honours) in English Literature and Gender Studies from the University of Victoria and is in the final stage of an MA in English Literature and Language from UBC, focusing on modern and contemporary Asian Canadian literature and the digital humanities. He is also the User Interface Developer for the Digital Humanities Innovation Lab at Simon Fraser University and, in collaboration with the Endings project at UVic, has worked with Martin Holmes (HCMC) on developing "staticSearch," the serverless and archivable search engine that powers the search and advanced search functionality in the LOI digital archive website.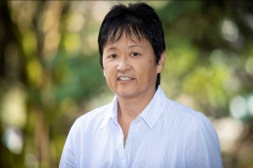 Eiko Eby, a Nikkei Yonsei, is currently the President of the Central Vancouver Island Japanese-  Canadian Cultural Society in Nanaimo.  Eiko is a professor in the Faculty of Education – Kinesiology Department at Vancouver Island University. In 2018, Eiko was awarded Vancouver Island University's first President's Award for Outstanding Community Engagement for her work in the Japanese Canadian community. She has a strong passion for this history as both her parents were displaced and dispossessed of their belongings during the internment of Japanese Canadians in British Columbia.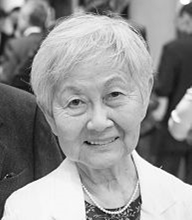 Keiko Mary Kitagawa was born on Salt Spring Island, BC. Her family was exiled in April of 1942 after their father was taken away by the RCMP in March of 1942. They were incarcerated in Hastings Park, Greenwood, Magrath, Alberta (after their father was released from Yellowhead Pass work camp in August of 1942), Popoff, Bay Farm, Slocan (in a tent), Rosebery, New Denver and back to Magrath (1946) after the ultimatum was issued by the Federal government. After 5 years of running a restaurant in Cardston, Alberta (1949-1954) the family moved back to Salt Spring Island (the only JC family to return) to a very virulently racist community. She helped to clear 5 and a half acres of scrubland into a family farm. Mary graduated from Trinity College, University of Toronto in 1959, taught at Kitsilano Secondary school, married Tosh Kitagawa, had two children and moved to Tsawwassen 46 years ago. After their children became of school age, she became a substitute teacher in the Delta School District.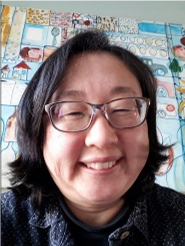 Sally Ito is a Sansei.  She is a writer who has published three books of poetry, a collection of short fiction, and most lately a memoir about her Japanese Canadian family called The Emperor's Orphans. She lives in Winnipeg. 
****************************************************************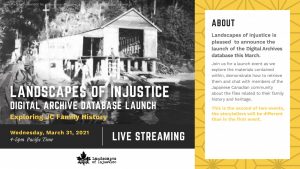 Second Stream: Wednesday, March 31, 2021
                           4:00 -5:00 pm Pacific Daylight time
THIS IS THE LINK TO THE RECORDING FOR THE SECOND SESSION https://youtu.be/HPpNs5cKaQE
Moderator: Lisa Uyeda
Welcome: Jordan Stanger-Ross
Digital Archive Database demo: Joey Takeda
Guest Storytellers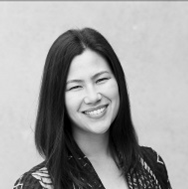 Lisa Uyeda is an archivist and a Nikkei yonsei with deep family roots in the Powell Street area. Born and raised in the Toronto region, Lisa volunteered and worked at the Japanese Canadian Cultural Centre where she documented over 100 oral histories, coordinated three conferences, and contributed to the early development of the Moriyama Nikkei Heritage Centre. She holds a Masters Degree in Archival Studies from the University of British Columbia and an Honours Bachelor of Science from the University of Toronto. Dedicated to the archival profession, Lisa worked at the Museum of Anthropology in the Audrey & Harry Hawthorn Library and Archives.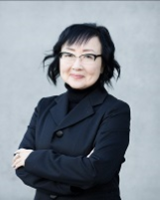 Sherri Kajiwara's heritage is a bit more complicated, she was born in Japan and adopted into Canada by Nisei Japanese Canadians. So legally she would be a sansei, however, biologically she is shin-issei; some may even say mixed-sei. Sherri is the Director/Curator of the Nikkei National Museum in Burnaby BC.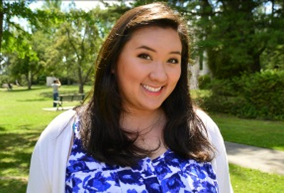 Kelly Fleck is the editor of Nikkei Voice, a nationally-distributed Japanese Canadian newspaper. Published 10 times a year, the newspaper is an important medium for Japanese Canadian expression and communication—covering news, community, art, and culture. A graduate of Carleton University's Bachelor of Journalism program, Kelly is interested in exploring stories about identity, culture, and community. A Yonsei or fourth-generation Japanese Canadian, her goal is to write and share stories that connect and celebrate the Japanese Canadian community.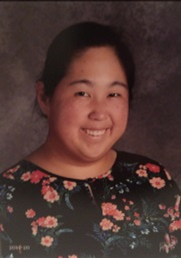 Stephanie Kawamoto is a yonsei originally from Hamilton but living in Ottawa.  She is an elementary school French teacher and also teaches coding and the grade 6 Social Studies unit on Japanese Canadians during and after World War Two.  Outside of work, she is a competitive pickleball player and an amateur musician.  
The LOI digital archive collections are the culmination of a four-year intensive research period conducted by project members. It includes a diverse array of materials from archival and government records to oral histories as well as land title records and transcribed directories. This archive boasts a total of 32,042 html documents collected from over 20 archives and repositories from Canada, US and UK. The documents include over 10,000 case files from the Office of the Custodian, over 1,400 files related to the Bird Commission, 7,397 land title documents, 1,019 Fishing Boat Ledger files and 454 protest letter documents.
All this material is harmonized into one cohesive unit easily searchable by the public with a static search capability. The materials will provide insight into people doing research on their family history or for researchers interested in the topic of the dispossession of Japanese Canadians.