Dr. Heather Read worked for the Oral History research cluster at Ryerson University in 2015, under the guidance of Dr. Pamela Sugiman. Heather is an experienced researcher who explores intersections between material culture and identity using oral history interviews. She began practicing oral history during her Master's degree in Folklore at Memorial University in St. John's, Newfoundland and Labrador, and continued her use of the research methodology during her PhD in Adult Education and Community Development from the University of Toronto. She has also done extensive community based oral history and arts work. Throughout her career so far, Heather pursued work in humanities and culture education, research and teaching.Since January 2016, Heather has been on maternity leave from LOI with her new daughter, Zoë.
Recently, Heather accepted a position at the Royal Ontario Museum in Toronto. We'll let her tell you more about this exciting transition:
LOI: First off, congratulations on parenthood! How is Zoë doing these days?
HR: Really great, thanks for asking! She's growing bigger every day. She loves music, is crawling and dancing, and just started waving recently, which is so sweet. She climbed all the way up stairs for the first time recently. I feel so lucky to have had the chance to be with her this year. As I'm sure any new parent will say, the first chunk of time was a hard adjustment, but watching and helping her grow has been really amazing.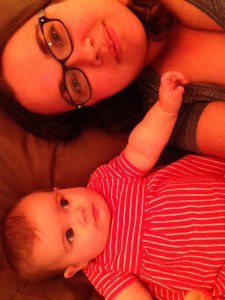 LOI: And further congratulations on your position at the ROM. Can you tell us a little bit about this exciting new step in your career?
HR: Thanks! I've accepted a 2-year position as the Rebanks Postdoctoral Fellow in the Arts and Material Culture of Colonial and Settled Canada. It's a bit of a mouthful, but in a nutshell, it means I'm going to be working in the curatorial department at the ROM, helping plan exhibitions and do research on the objects in the Canadian material culture collection there. The collection is wide ranging and contains beautiful furniture, paintings, glassware, maple sugar moulds, ceramics, and advertising prints, just to mention a few categories. In my PhD research, I explored the life stories of ceramic artists, so this position sits naturally within some of my past work. I love thinking about the stories and meaning that can get wrapped up in the objects in our lives.
LOI: We were very fortunate to have you as part of the LOI research collective. How was your experience and in particular in the terms of your academic interests and goals?
HR: I was really fortunate to be a part of the Landscapes team. Honestly, it was a hard decision to take this new job. Being a postdoctoral fellow, I got to see the project from two perspectives – working closely with one of the research leads, and also the students. I got to help shape the direction of the Oral History Cluster, and I learned so much from working with Pam. To talk about big picture things (like budgeting, managing people and research ethics) and then the nitty gritty details (like how to do a good interview) with someone who has such depth of experience was invaluable. And then to work closely with the student researchers in the Oral History Cluster, and share with them the joys and challenges of being a part of such a large project was also important learning. The LOI students are really passionate and keen.
I should also say that I really knew embarrassingly little about the internment of Japanese Canadians before this project. I grew up in Southern Ontario, and it basically never came up in our school systems. So, it's important to me that I now know more about this part of Canadian history, and I'm happy to have contributed to something that will teach others about this troubling aspect of our past.
And lastly – the people who've shared their stories with me and with the project. That's where it got really hard to think about leaving LOI. I am so grateful to the interviewees that I spoke with, both formally in interviews and informally in setting up interviews. I'm deeply honoured to have had the chance to listen to these people share their stories, and am saddened I won't get the chance to work with them again in the same capacity.
LOI: How did your experiences for LOI help prepare you for this new role at the ROM.
HR: I have typically approached thinking about material culture and stories and objects from a creation standpoint – asking artists why they make things, asking people why they have collected things, or decorated things, or preserved things, and so on. There's usually a thing that we can look at and talk about in many of my non-LOI interviews. The work of LOI inverted my usual perspective, and taught me a great deal about the importance and poignancy in stories of absence and loss. Being broadened is always good.
I am also more aware of how a person's experience of race affects what they are able to, and feel comfortable keeping in their homes in Canada. There were several interviewees who noted that they or their parents made efforts to disconnect from their Japanese heritage, and pass as white, after the war. So, they didn't try to get any Japanese dishes, or books, or clothes in their new living spaces. As I head off to work in a museum, where knowledge is rooted in collections of objects, I am better poised to ask questions about the social forces that shaped these collections.
LOI: Thank you for your time answering our questions. Do you have any final thoughts for the project and the research collective?
HR: I sincerely want to thank everyone and wish them good luck. To Pam, Jordan, and the rest of the research leads in particular – 7 years is a long time and this a complicated project to be a part of, on top of their other career and life responsibilities. I hope, from my end, that this isn't goodbye, too! I am going to stay in touch with the Oral History Cluster, and will keep an eye out for possible synergies with the ROM in the future. And hopefully, whatever happens, I'll be able to bring my daughter to the museum opening in a few years time.