Canadian War Museum acquires internment-themed work by Japanese Canadian artist Norman Takeuchi
Ottawa, Ontario, December 2, 2015 — TheCanadian War Museum is peased to announce the acquisition of A Measured Act, a stunning multimedia series by Japanese Canadian artist Norman Takeuchi. The workreflects on the experiences of 22,000 Canadians of Japanese ancestry — including the artist and his family — who were forcibly relocated to isolated communities and internment camps during the Second World War.
"This powerful work of art movingly illustrates the implications of the Japanese Canadian experience during a difficult period in our history," says Stephen Quick, Director General of the Canadian War Museum. "A Measured Act will help us tell this story from a very personal perspective, revealing how this important aspect of Canada's home-front experience in the 1940s affected Japanese Canadians."
The individual pieces in A Measured Act include five life-sized, shaped paper kimonos that incorporate photo transfers, acrylic painting, and Conté and oil pastel drawings. Kimonos are an iconic emblem of Japan, where the wide-sleeved garments have a long history as cultural artifacts, fashion items and works of art. Takeuchi's paper versions combine dark, abstract forms with text and photo transfers of historical images and documents related to the internment of Japanese-Canadians, persecuted because of Japan's role as an aggressor in the Second World War.
The kimonos are juxtaposed with six small Conté crayon drawings. Mounted on canvas and displayed on two wooden shelves, they depict some of the few everyday items that families like Takeuchi's would have been allowed to take with them to the camps in British Columbia's isolated interior. Takeuchi's simple but richly textured renditions of these objects — a teapot, a bowl with chopsticks, a small bottle of soy sauce, a ball and glove, a towel, a pair of boots — evoke hardship and loss but also intimacy and reverence. Detainees were forced to give up their homes and most of their possessions, so these few household items connected them with their old lives and with their cultural heritage.
Takeuchi, born in Vancouver in 1937 and a long-time resident of Ottawa, is known for his hybrid style that blends traditional Japanese iconography with abstract shapes and images of contemporary Canada. A Measured Act was originally created for a 2006 group exhibition, Without a Passport, curated by Maureen Korp and shown at the Karsh-Masson Gallery. The work has since been exhibited in museums across Canada and the United States, including the Japanese Canadian National Museum in Burnaby, B.C. and the Military Museums in Calgary, Alberta.
The Canadian War Museum is Canada's national museum of military history. Its mission is to promote public understanding of Canada's military history in its personal, national and international dimensions. Work of the Canadian War Museum is made possible in part through financial support of the Government of Canada.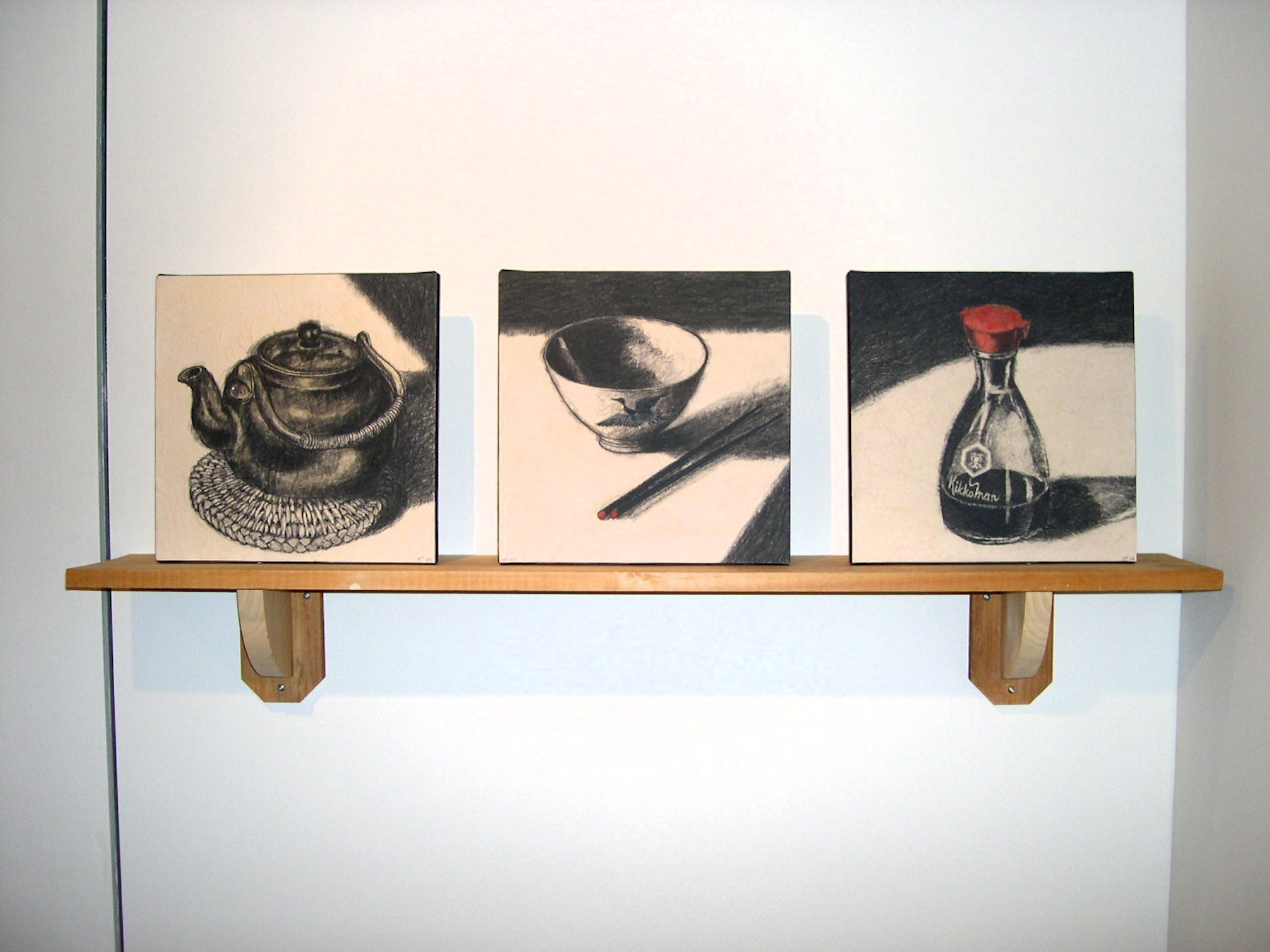 Photo credit: Norman Takeuchi A Measured Act (detail) CWM 20140167
Canadian War Museum Photographs by Norman Takeuchi