Canada's Internment Era – A Field School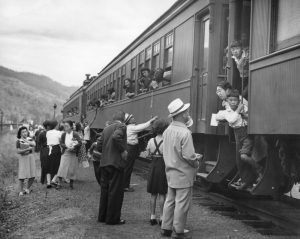 An opportunity for in-service teachers
Learn the history of the internment in the places where it happened
Receive resources made by teachers for teachers
A fully funded learning opportunity
The National Association of Japanese Canadians and Landscapes of Injustice are pleased to offer a new funding opportunity for an in-service teacher to attend UVIC's July 2019 course, Canada's Internment Era- A Field School. We are seeking a candidate with links to the Japanese-Canadian community and its history. All costs of participation including flights, accommodation, and course registration will be covered by this funding (to a maximum of $3,000).
The successful applicant will join a team of teachers from across Canada for two weeks this summer, July 7-19, for a new course offered in collaboration with the Nikkei National Museum. Designed to educate and provide teaching resources to in-service teachers, this exciting course includes a 1-week tour of internment sites in British Columbia and 1 week of intensive learning in Victoria.
Open to educators at both elementary and secondary school levels. Educators can get undergraduate or graduate credit, if they wish.
Applications (including: cover letter, resume, dissemination plan [indicating plans to distribute resources within your home district—see below], and letter of support from home district) accepted until May 22, 2019. Please explain in your cover letter your connection with the Japanese-Canadian community and its history.
For enquiries and to apply, contact information is contained below.
Michael Abe
Project Manager, Landscapes of Injustice
e-mail:mkabe@uvic.ca
website: www.landscapesofinjustice.com