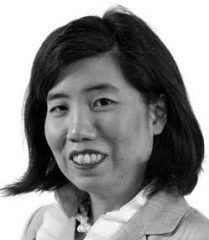 Laura Saimoto
Steering Committee
Laura Saimoto is a third generation Japanese Canadian living in Vancouver British Columbia Canada. She has a BA in History and Japanese (University of British Columbia) and an MA in Sociology(Sophia University, Japan). Laura is a board member of the Vancouver Japanese Language School & Japanese Hall. In addition to being a graduate of the school she is chair of the Community Relations Committee and is the partner rep in the Landscapes of Injustice research project.
She brings ten years of expertise as a former market researcher and brand and marketing manager for multi-nationals in Japan. In Vancouver, her business expertise was integrated into her family's packaging company.
Laura brings her long family history and leadership with the organization to achieve the next level of the organization's sustainability in the Interpretive Centre Renovation Project, which will transform VJLS-JH into a vibrant community and education hub. Her parents and grandparents served as community leaders, notably with the Reestablishment Committee that reclaimed the Hall in 1952.