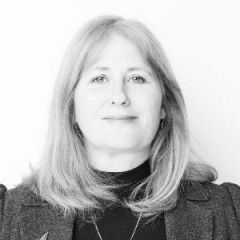 Joanne Orr
Executive Committee
Joanne Orr brings over 30 years of experience working in and with museums, both in the UK and internationally. For the past 13 years she worked in a strategic position leading on a national strategy for museums in Scotland. On the fore-front of museum best practice, Joanne has extensive experience in museum development programs including curatorial, research and exhibition touring.
As Vice President, Collections, Research and International Programs Joanne oversees research, learning, exhibitions and the museum's collections of art, natural history and human history, including its holdings of Indigenous artifacts and treasures. The role involves strong academic and programmatic excellence and extensive collaboration with a range of partners.
Before joining the Royal BC Museum, Joanne's extensive resume included positions of CEO of Museums Galleries Scotland, Edinburgh, Assistant Director of Cultural Services, Collections and Strategy for the Durham County Council, Museum and Arts Director at Tullie House Museum and Art Gallery for Carlisle City Council and Director of Dunaskin Open Air Museum in Scotland. The Founding Chair of UNESCO Scotland, she also served as a Director on UK National Commission for UNESCO and as a Director for the Board of ICOM UK.
"It is the strength of the collections at the Royal BC Museum that has attracted me to this position, in particular the Indigenous collections and the repatriation program," said Orr, "I chaired the academic working group (for the Museums Galleries in Scotland) that developed the Guidelines for the Care of Human Remains and Sacred Objects and have championed good practice in this area. I am passionate about Indigenous partnership and repatriation."
Education:
Joanne completed her MBA at Durham University, holds an MA in Museum Studies from Leicester University; she holds a post graduate diploma in Industrial Architecture from Birmingham University and a BA in Historical Studies from Manchester Metropolitan University.
Website: http://royalbcmuseum.bc.ca/joanneorr