Landscapes of Injustice, a history all Canadians should know.
During the 1940s, Canada enacted mass displacement and dispossession of people on racial grounds, a collective moral failure that remains only partially addressed. Japanese Canadians lost their homes, farms, businesses, as well as personal, family, and communal possessions. Landscapes of Injustice is dedicated to recovering and grappling with this difficult past.
Digital storytelling website
Landscapes of Injustice Book
Subscribe to our newsletter to stay up to date.

Announcements and Upcoming Events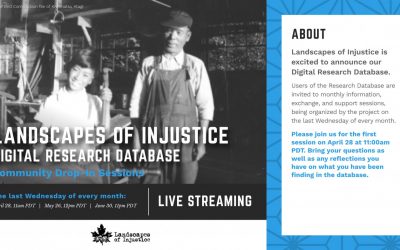 Introducing the Landscapes of Injustice Digital Research Database. Landscapes of Injustice is excited to announce our Digital Research Database. Access it here: https://loi.uvic.ca/archive/ LINK TO THE RECORDING OF COMMUNITY DROP-IN SESSION 1 APRIL 28, 2021...